Homes Selling for 101% of List Price on Average
The Phoenix housing market update for April 2021 below has been provided by The Cromford Report. It features the stats you need to know and explains what they mean if you're thinking about buying or selling a home right now.
If you would like similar information about the real estate market in a specific city or zip code within Greater Phoenix, let us know! We'd be happy to send it to you.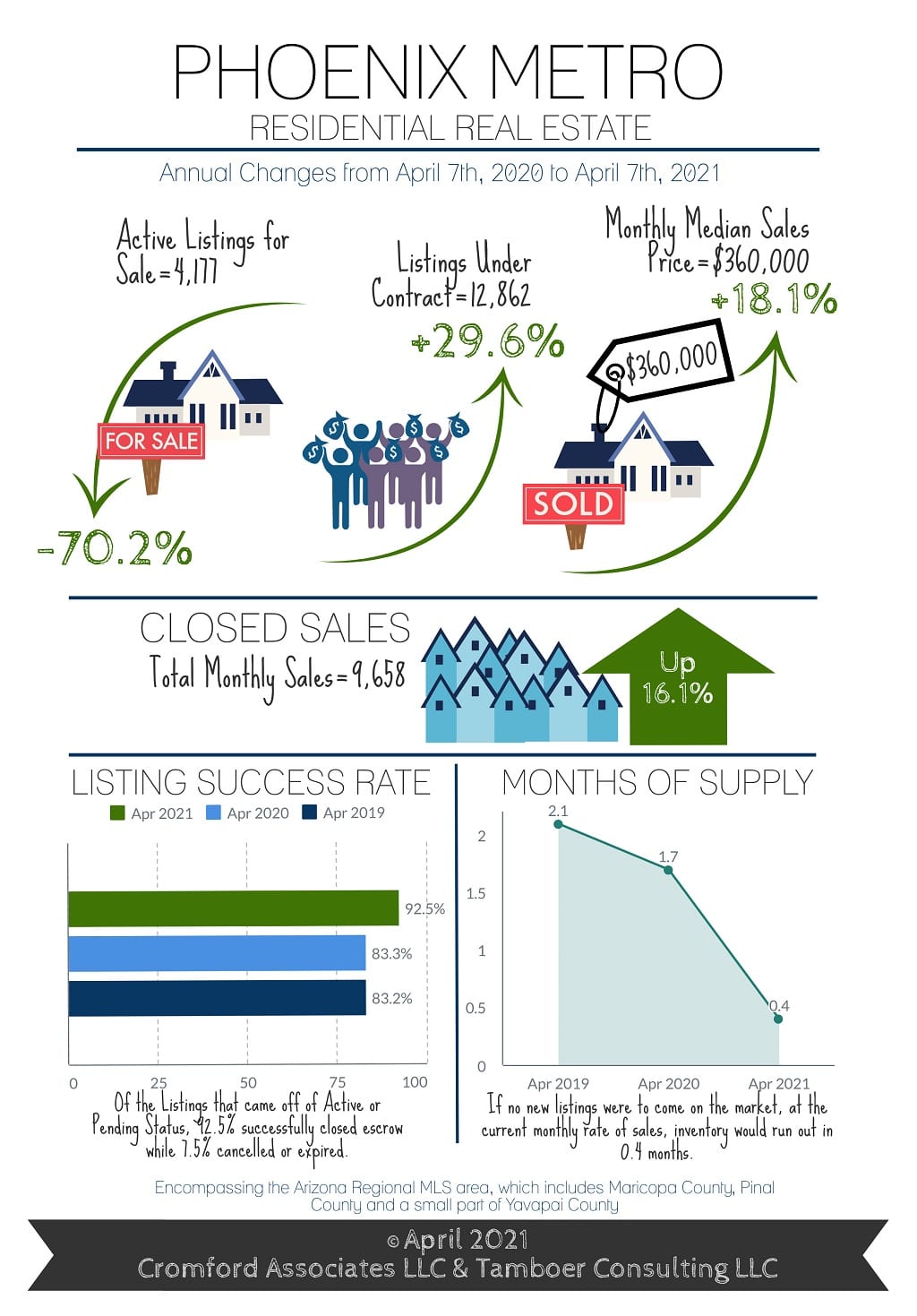 What does this mean for Greater Phoenix home buyers?
With 54% of all sales closed over asking price so far in April, the average sale price per square foot is now higher than the list price for every price range up to $1M. In a balanced market, homes typically sell within 97% of list price; that percentage is now 101%. This means that, for the past month or so, the majority of list prices have been the starting price for where negotiations begin instead of a top price to work down from.
In past extreme seller markets, $5,000 over asking was typically enough to win a contract; that was true last year as well when the market took off. However, last January the median over ask was $6,000; by February it was 10,000; in March it was $11,000; and so far in April, it's $15,000. The highest—$905,000 over list price—closed in March. It was an auction for a 10-acre property in Cave Creek that sold for $2,255,000.
By price range, over 62% of homes listed between $250K-$400K closed over asking price; the percentage is 54% for sales between $400K-$600K; 47% between $600K-$900K; 30% between $900K-$2.5M; 9.5% over $2.5M. Putting an offer in over asking price may cause a buyer some anxiety, especially a first-time home buyer.
The median sale price is now $360K. Since January, the sales price per square foot for a home between $300K-$400K has appreciated 6%. That's approximately 2% per month and the current sale price to list price ratio within the price range is 102.4%. If this rate of appreciation continues in the short term, a buyer who paid 4% over asking price on a $360K home ($14,400 over) would recoup their investment through appreciation in approximately 2 months.
What does this mean for Greater Phoenix home sellers?
The luxury market has been exploding since last summer and continues to be at the strongest level ever seen in Greater Phoenix. The number of listings under contract over $1M is up 156% over last year, but the number under contract between $2M-$3M is up 296% and over $3M is up 212%. In a typical market, sales prices in this range would be landing around 93% of list price. However, in the 2021 market, the sales price ratio is averaging 98% of list.
The luxury market is also keeping up with the rest of the market in terms of marketing time. Half of the contracts accepted valley-wide in the last week were on the market 6 days or less. Over $1M, the median was 12 days prior to contract. Over $2M, the median is 67 days.
The market over $1M is outperforming in terms of annual appreciation in sales price per square foot. The median price for a 4,000-5,000 square foot home is running at $1.1M with an appreciation rate of 31%. The median price for a 5,000-10,000 square foot home is $2.3M with an appreciation rate of 35%. For perspective, the median price of a 1,500-2,000 square foot home is $365K with an appreciation rate of 25%.
Conclusion
Whether you're a buyer, seller, or investor, The Hill Group has the experience and strategies to help you reach your real estate goals this year. Let us know how we can help!
If you'd like to receive these monthly market updates as soon as they are posted, subscribe to our email newsletter. For a free home value estimate prepared by our team, simply type in your address here.
Commentary written by Tina Tamboer, Senior Housing Analyst with The Cromford Report
©2020 Cromford Associates LLC and Tamboer Consulting LLC