Do mild and sunny winter days between 60 and 70 degress Fahrenheit seem like a tropical dream? Every winter, you can find those welcoming temperatures right here in Scottsdale.
The great winter weather in Scottsdale along with a range of enjoyable events and activities make it one of the top places to be.
Here are some of the best winter activities, events, and things to do in Scottsdale while the rest of the country counts down the days until spring.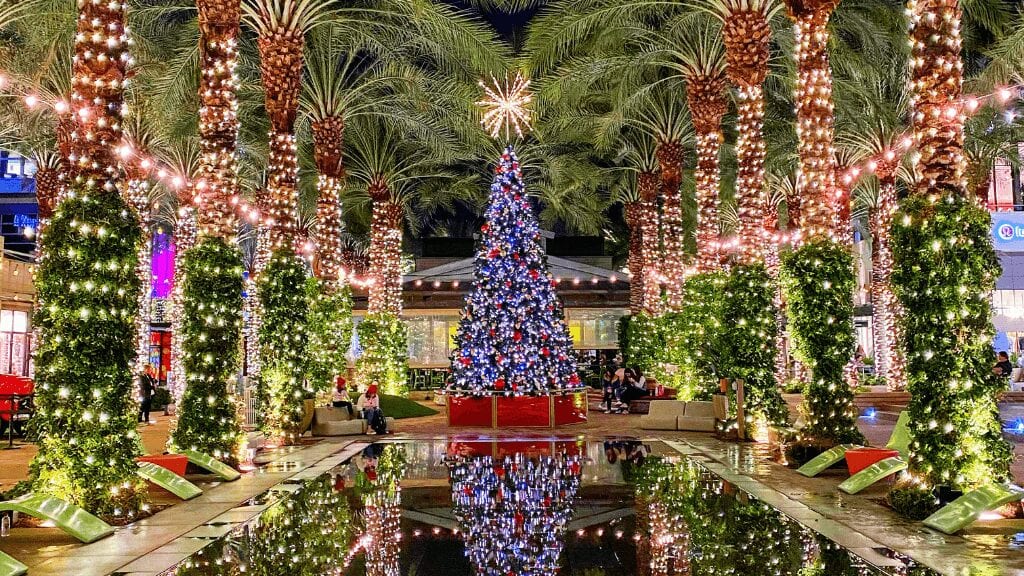 Walking the Canal Path in Old Town during Scottsdazzle
Each winter in Old Town, holiday lights adorn the Arizona Canal Path, making it one of the most scenic and memorable spots for a quick walk.
A stunning oversized Christmas tree at the waterfront is one of the top highlights of Scottsdazzle. This event is held each December, and you can find plenty more to enjoy throughout Old Town.
From fine dining at the city's top restaurants to shopping at world-class boutiques and Fashion Square Mall, signature events, wine tasting, culinary demonstrations and more, you can easily fill your schedule.
If you happen to be in Scottsdale during the winter, it's an absolute must to spend some time walking the canal in Old Town during Scottsdazzle. The breathtaking lights and warm weather are absolutely relaxing.
Ice Skating at The Princess
What's winter without some ice skating? You can still enjoy this activity even in the desert at Fairmont Scottsdale Princess. This AAA Five Diamond award winning resort hosts a 6,000 square foot ice skating rink as part of its Christmas at The Princess.
Other activities include train tours of the resort, holiday character appearances, and an impressive holiday light display. Photos with Santa are available as well as tasty food stations with s'mores and other goodies. For a real meal after a long day of skating, Fairmont Scottsdale Princess also offers a variety of delicious restaurants.
ZooLights at the Phoenix Zoo
The Phoenix Zoo puts on a spectacular, must-see show every year with ZooLights. The entire zoo is decorated with stunning light displays and sculptures. Proceeds from ZooLights go to support the zoo as well as local charities fighting child hunger. If there's one event you had to pick to attend during the winter in Scottsdale – this is the one.
Millions of twinkling lights extend into the tallest trees and structures in the zoo, making you wonder how they did it! Illuminated and highly detailed animal sculptures (such as koalas, polar bears, mammoths, and kangaroos) are spectacular to behold.
This event often sells out quickly, so it is highly recommended to purchase tickets ahead of time. Food, beverages, souvenirs, and photos can be purchased ahead of time as well.
ZooLights is normally held each evening from early November all the way until the end of January. If you happen to be in Scottsdale during this time, you won't want to miss out!
Las Noches De Las Luminarias at the Desert Botanical Garden
Each winter, the Desert Botanical Garden in Phoenix hosts Las Noches De Las Luminarias. View over 8,000 flickering luminarias and lights while enjoying a festive drink and your favorite holiday songs. It's the perfect way to appreciate the beauty of the desert at night!
This event is held on each weekend in December as well as the final days of the year.
Christmas at Schnepf Farms
Every winter, Schepf Farms in Queen Creek turns into a brilliantly illuminated winter wonderland with festivities for the whole family.
There's snow globe mini golf, cookie decorating, and Christmas bonfires. Or, take the train trip through Santa's Portal, an LED lit tunnel that is sure to dazzle.
Vendors offer tasty treats like spiced nuts, pizza, kettle corn, and funnel cakes on Santa Claus Lane. A beer and wine garden is also open to adults.
This fantastic event is fairly priced and well worth the reasonable drive from Scottsdale or anywhere else you may happen to be in Phoenix during the winter.
McCormick Stillman Railroad Park
The McCormick Stillman Railroad Park hosts Holiday Lights each December into the start of the year. Each night you can hop aboard the Paradise & Pacific Railroad or Charros Carousel while enjoying a spectacular holiday light display.
It's a wonderful way to spend a night while you're in Scottsdale for the winter! Children receive free admission and the event often fills up quickly.
Attending the Waste Management Phoenix Open
Every year, the Waste Management Phoenix Open is held at the Tournament Players Club of Scottsdale. Known as "The Greatest Show on Grass," it's the top annual event for both local and visiting golf fans.
There's plenty of energy and excitement around this four-day event. Attendance is usually around half a million people making it the most popular event overall in professional golf.
You'll find Scottsdale absolutely packed with people during this tournament, which is held in either late January or early February. If you enjoy golf, you won't want to miss the chance to attend the Phoenix Open during the winter in Scottsdale.
Go Hiking at Numerous Destinations
Of course, hiking has to make the list of activities to enjoy during Scottsdale winters. The temperatures are pleasant enough that prolonged hikes are very manageable. And the sun isn't as oppressive as it can be during the summer.
You'll find plenty of hiking trails throughout Scottsdale, from the easy hikes around Papago Park to the more challenging Sunrise Peak. The McDowell Sonoran Reserve also offers a vast range of trailheads including Tom's Thumb, the Gateway Trail, and more. Camelback Mountain is centrally located and is a favorite among hikers.
You'll be spoiled for choice when it comes to hiking destinations in Scottsdale. However, expect a crowd on most trails, because winter is a very popular time to hike here.
Summary
In addition to the huge range of seasonal events and winter activities to do in Scottsdale, you'll find a variety of unique restaurants, well-maintained parks, and many public golf courses that are open year-round. All of which you can enjoy while wearing a light sweatshirt and still be completely comfortable.
Winters in Scottsdale and Phoenix are truly magical.