Having a backyard pool in Arizona can be amazing: there's the weekend pool parties, early morning dips before work, and hours of nearly-free entertainment. And if you've lived through a summer in the Phoenix/Scottsdale area, chances are good that the thought of buying a house with a pool or building one has crossed your mind at least once or twice.
But, is it worth having a pool in Arizona? We're glad you asked.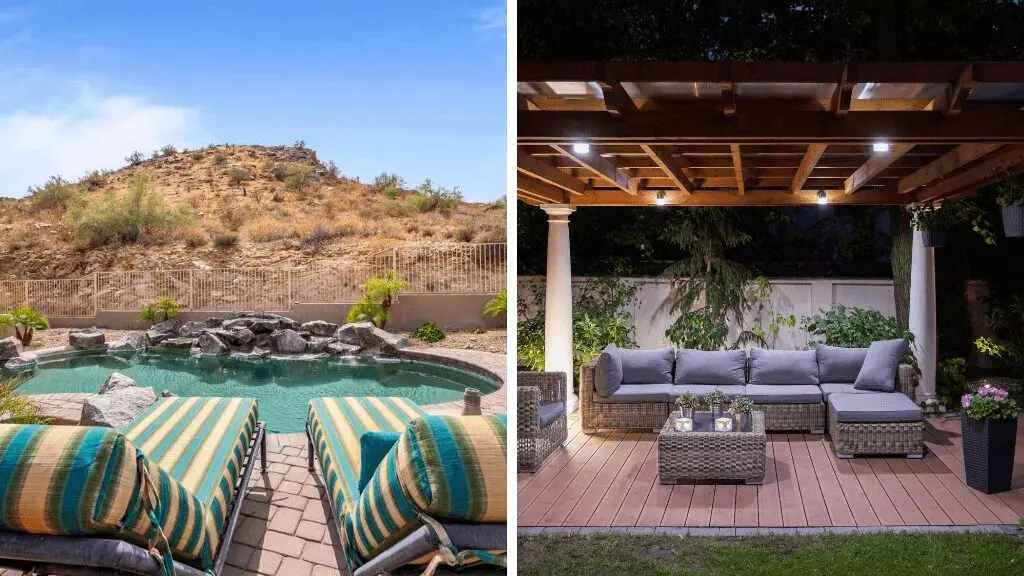 We've done the research for you and put together the top pros and cons of pool ownership. By the end of this article, you'll have a more realistic understanding of the maintenance, liability, and overall cost of being a pool owner.
Let's dive in!
Pros
Parties & Events
Save Money and Beat the Summer Heat
Increased Property Value
Healthier Living
Cons
Maintenance & Repairs
Liability, Safety & Regulations
Unwanted House Guests
Higher Costs
Pros of Pool Ownership in Arizona
There are some pretty cool perks to swimming pools. They can give a boost to your social life, physical health, and even wallet.
Parties & Events
Imagine all of the luaus and themed parties you can host around your backyard pool! Throwing a pool party for a birthday is especially great because the pool can be the primary focus of the party so you don't need to worry too much about decorations.
If you have kids, hopping in the pool allows them to burn off all that energy while also keeping them supervised in one place. Depending on the size of your pool, you could even host an all-day tournament of water volleyball or water basketball as part of a neighborhood block party.
Save Money and Beat the Summer Heat
Let's be honest. Summers in the Phoenix/Scottsdale area are almost always over 100 degrees. Thankfully, pools offer the perfect escape from our dry desert heat. An escape that doesn't involve leaving the house and spending more money.
Pool toys, floats, and noodles are all affordable ways to have plenty of fun in your pool. If you're looking to invest a little bit more, installing a net for water volleyball is an epic way to enjoy your pool for less than you would pay for a membership to a public pool, a pass to a day camp, or a ticket to a water theme park.
Increased Property Value
An inground pool in your backyard will probably increase your property value. Having said that, there's a limit to how much value a pool in Arizona can add. In our experience, real estate appraisers in Phoenix and Scottsdale typically place the value of smaller or outdated pools between $7,000 – $10,000 and the value of larger pools with more features between $15,000 – $20,000. We've seen exceptions, of course, but pool values rarely exceed 5 – 6% of a residential property's total value.
Thanks to our warm climate and longer pool season, pools offer additional benefits to home sellers. In the Greater Phoenix Area, homes with pools are more likely to sell than homes without pools. And, in most price ranges, the homes with pools sell 2-4 weeks faster!
Healthier Living
A backyard pool isn't just for your friends and family… It's for you, too.
Owning a pool can help improve your mental health as well as your overall physical fitness. This must be why increased pool time has been proven to boost people's quality of life.
How can you reap some of these health benefits? Swimming laps in the pool is an excellent way to take your mind off things and get a cardiovascular exercise, meaning that it's good for your head, heart, and lungs. Because exercising in water helps reduce the pressure placed on your joints, many people can exercise longer in water than on land.
Cons of Pool Ownership in Arizona
Having a pool in the back yard isn't always sunshine and unicorn floats. There's a lot more behind the scenes maintenance than you might realize.
Maintenance & Repairs
No matter how glamorous pool ownership feels at first, it's only a matter of time until you'll need to clean or maintain the pool. In order for you to have a clear understanding of the cleaning and maintenance involved in having a pool, we'll break down a few of the most common costs below.
Pool Maintenance
When it comes to your home's seasonal maintenance, you'll now need to factor in pool maintenance as well. In the Greater Phoenix Area, it's not likely that you'll need to winterize your pool. Instead, most owners here keep their pools open year-round.
If you're more of a DIYer and decide to clean your pool yourself, you'll need to have several tools including an automatic or manual vacuum, telescoping pole with skimmer net and brush, pool tile scrubber, and chemical test kit. For a traditional chlorine pool, you'll need to have several products and chemicals including a sanitizer, oxidizer, water balancer, and a few specialty chemicals that can come in handy when unexpected problems arise. Thankfully, sanitizers (i.e., chlorine) are relatively affordable and can be bought in bulk. Saltwater pool systems are known for requiring fewer chemicals but still require maintenance.
If you decide to have your pool professionally maintained, expect to spend $90 – $120 per month for a service that will include routine cleaning and chemical balancing. Your exact pricing is usually based on the size of your pool, whether you have a spa, and the amount of leaves/debris that the surrounding landscaping generates.
Additional maintenance costs you might not have considered are your electricity and water bills. Anecdotally, we've heard new pool owners tell us that their electricity bills increased approximately $100 per month after installing a pool. Your electricity consumption will vary depending on whether you have a variable-speed pump that operates at reduced horsepower or an older single-speed pump that runs intermittently at high horsepower. Fortunately, pool pumps can often last up to 10 years when properly maintained.
Pool Repairs
No matter how well you take care of your pool, repairs are bound to come up every now and then. The most common repairs will involve the pump, filter, skimmer, and pool light. Water and air leaks can occur in almost any of these parts. Like with most things related to a home, keeping an eye on these fixtures and having them professionally repaired quickly will prevent them from escalating into something more serious.
Liability, Safety & Regulations
How can you proactively protect your friends and family while enjoying your backyard pool?
Some of the top preventative measures include installing a safety fence around the pool, putting locks on any doors that lead to the pool area, teaching children how to swim, and setting specific pool guidelines.
If the property doesn't already have a fence around the pool, definitely consider adding one. Arizona state law and most Arizona cities require pools larger than 18 inches deep and 8 feet wide to be enclosed by a fence/barrier. Before you choose a pool fence, check the state's laws and your local city/municipality's laws. Then, go with whichever is stricter.
One type of pool barrier, removable mesh fencing, costs about $15 to $20 per linear foot for an average of $2,000 installed.
Insurance
Due to certain risks and the liability that you take on as a pool owner, you will also need to add insurance to your list of things to consider. If you are buying a property with a pool, you should discuss your new pool with your insurance provider during your Inspection Period to ask if they have any issues with the pool itself, the pool fencing (or lack thereof), and whether there is a diving board or slide. While a standard Homeowners Liability Coverage limit is $300,000, you might want to consider increasing that limit or adding an Umbrella policy with broader coverage.
We spoke with insurance agent Michael Pinta, owner of Michael Pinta Agency, Inc., about this and he told us, "Most people are shocked to find out that increasing your Homeowners Liability coverage to $1,000,000 only adds a few dollars to your annual premium. So, ask your insurance provider to quote $1,000,000 Liability…and place a lock on the gate to your yard. Both are well worth the cost!"
Unwanted House Guests
Not only can having a pool cost more financially, but you also might be unknowingly inviting unwanted house guests like mosquitoes, water bugs, turtles, snakes, birds, ducks, or even raccoons.
While the occasional duck swimming in your pool might not cause any imminent threat to you or your pool guests, it's a good idea to understand the types of animals that might be attracted to a body of water and know how to get them out of your pool, if need be.
Higher Costs
It goes without saying that having a pool in your backyard is going to cost more one way or the other. What may surprise you is that it is usually cheaper to buy a house with a pool already installed than to put one in later on. For example… In our experience, homes with pools in Scottsdale and Phoenix sell for $10,000 – $15,000 more than their comparable neighbors without pools. However, according to HomeAdvisor, building a pool in the Greater Phoenix Area costs on average $20,000 – $30,000.
Once you have the pool, HomeAdvisor reports that the average pool owner spends between $3,000 – $5,000 per year on cleaning, maintenance, repairs, utilities, and insurance.
Conclusion
So, what's the verdict? Pool or no pool?
Ultimately, it's up to you to decide whether or not the enjoyment and exercise you'll get out of pool ownership is worth the longterm costs. Most of our pool owner clients tell us that they love their pools. In fact, many of our clients with children tell us that they swim in their pools almost every day during the summer.
If owning a pool in Arizona sounds like too much cost and effort to you, then another option to consider is buying a home with a community pool. These pools are not private and usually do still cost an additional monthly fee; however, it takes a significant amount of the cost and liability burden off of your shoulders.
Be sure to check out our dedicated pages for both Arizona homes with pools for sale and Arizona homes without pools for sale. Or, give us a call with any follow-up questions you may have. We look forward to hearing from you.
Sources:
1. CDC
2. Million Acres
3. In the Swim
4. Home Advisor True Cost Guide
5. Insurance.com